INFOGRAPHIC: Key Trends for Workspace Providers in 2018
Who are Australia's flexible workers? What do they want from their office space? How have desk prices changed in your city over the last year? Check out our infographic for all the answers and more.
The Australian flexible office market is booming and a rising number international coworking brands are arriving on our shores. Existing office providers are faced with a new challenge as the global coworking industry descends on Australia, granting wider choice and better rates for tenants.
"While growth over the last four years has been fast, the Australian market is still in its infancy," says Grant Philipp, Office Hub CEO. "To put it into perspective, Knight Frank recently reported that Central London has more than three times the number of coworking spaces than all of Australia."
"Being a young market, there is huge opportunity for providers to adapt or cement their USP before the game gets too crowded."
"By analysing tenant behaviour, evaluating the success of other players and adapting in response to industry patterns, every provider can future proof their offering and stay ahead of the pack in their local market," says Grant.
Our infographic highlights the most noteworthy industry trends in 2017-18. It reveals what the average deal looks like, what tenants are looking for and how desk rates have changed in major Australian cities. Check it out and discover how you're faring in the current Australian coworking scape.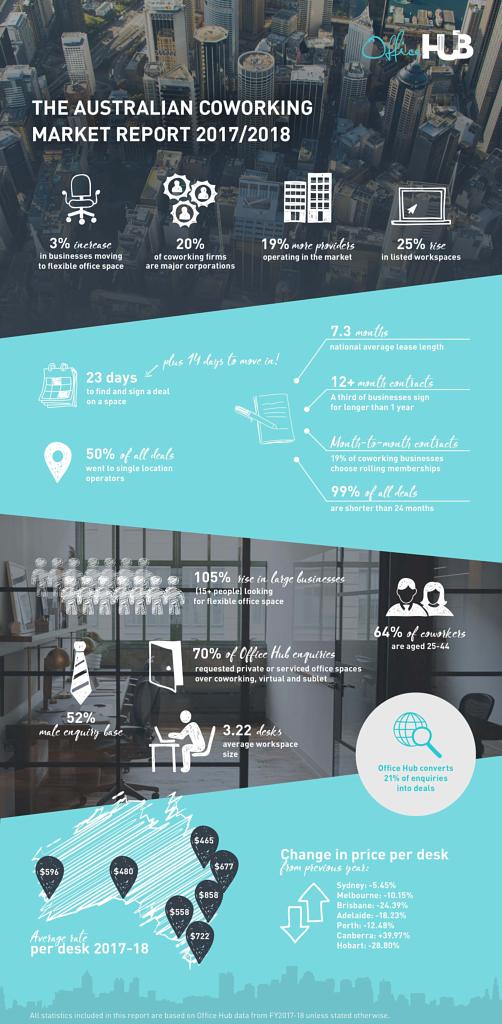 The infographic is based on exclusive Office Hub data of more than 1,000 providers and 5,000 tenanting businesses in Australia this year. Read the full Coworking Market Report 2018 here.
Want advice setting up a flexible workspace or adapting to changes in the industry? Contact us here or find out more about becoming an Office Hub Workspace Partner.