Celebrating International Dog Day: Australia's Best Pet Friendly Coworking Spaces
It's International Dog Day and here at Office Hub we are celebrating by inviting our pups to the office while highlighting the best pet friendly coworking spaces in Australia!
International dog day stands out as one of our favourite holidays because let's face it; dogs make everything better, including work. While we think man's best friend deserves to be celebrated everyday, make sure you let your furry friend have an extra treat or two today.
If you're a dog owner you might be reluctant to leave your dog alone at home all day or unable to find a dog-sitter nine to five, running out of options and dreaming of bringing your furry friend with you to work. No need to despair, we have some good news for you! Many traditional office spaces and managed centres may have enforced the "no pets allowed" policy, but some forward-thinking coworking centres have thrown out this policy entirely, especially with millennials seeking pet friendly office space like never before. Office Hub workspace partner, WOTSO is one of these forward-thinking coworking providers, who has established a pet friendly policy across all centres nationwide.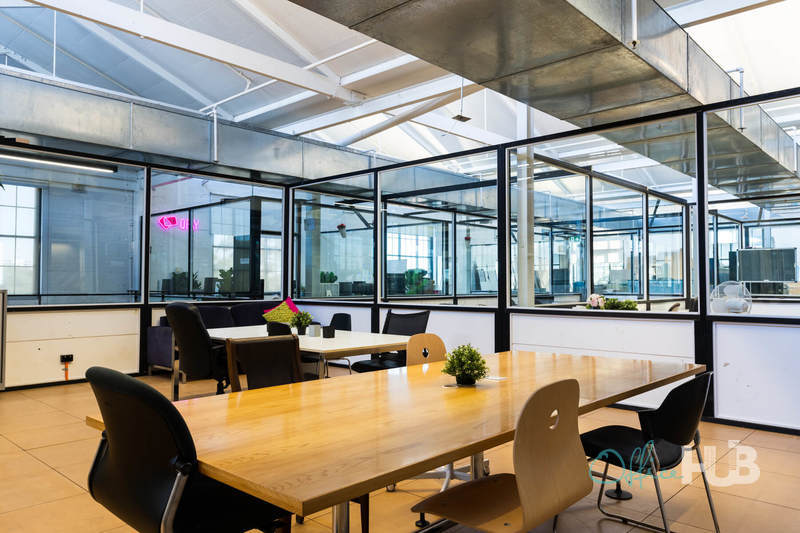 We had a chat with Courtney McDonald, WOTSO Workspace Manager at North Strathfield, about being a pet friendly coworking space and why it has proved to be positive for the brand and the customers.
"Instead of leaving their pets at home and worrying about them throughout the day, we give our customers the freedom to bring them into the office. In return, we have satisfied customers who are able to focus on work," Courtney says.
While a pet friendly policy is not for everyone, there are some serious benefits in letting a dog wander the office. Having pets in the workspace have proven to reduce hormonal stress, making employees feel more relaxed and boost their creativity, while it can improve a customer's perception of your business.
Courtney chimes in: "All our tenants love having pets at work, especially when any of our customers bring in kids as well. It just makes for a happy and joyful atmosphere benefitting everyone".
So, in celebration of the pooches and the joy they bring everyone around them, here are some of Office Hub's favourite pet friendly coworking spaces where your furry member of the family is more than welcome.
Reborn
Coworking desks from: $103 per week
This quirky warehouse-styled coworking hub curated for creatives, provides an inspiring and supportive environment where pets aren't just allowed – you will be looked upon favourably if you can provide one of these. Sitting in Sydney's inner suburb Chippendale, a creative arts precinct with a real edge, this coworking space mirrors the vibe of the area. Home to startups, copywriters, designers and agencies this is the ideal spot for anyone in the creative industry seeking a flexible coworking space where bringing your pet is encouraged.
Emerge
Coworking desks from: $95 per week
Emerge is a boutique coworking space in the vibrant and central suburb of Surry Hills. High ceilings, color pops and heaps of natural light makes this an inspirational and enjoyable workspace. Base your business in this sleek office space and welcome your pets into an environment where they will be cherished by everyone in the office. It's a dynamic managed space where you won't be dragging your feet Monday morning – you will love coming to work every single day surrounded by a group of supportive people! With everything taken care of there's meeting rooms and boardrooms free to use, super fast internet will keep you effective at all times and the team onsite will support you to success.
WOTSO
Private office from: $124 per week
WOTSO is an Aussie coworking provider with centres scattered around all states in city fringes. Their colourful, plant filled, collaborative environment attracts people across all verticals but especially creative industries. Their fitouts have been designed to inspire and fuel productivity while they encourage you to join in on the many networking events and social gatherings connecting you with likeminds. Moreover, with all 16 centres around Australia enforcing a pet friendly policy, WOTSO is a trailblazing provider for the pet-loving coworking community. Join in on the fun and enquire below!
Engine House
Coworking desks from: $92 per week
Engine House couldn't be more Melbourne if it tried. Their two centres in St Kilda and Balaclava, both boasts an industrial style with loads of character, natural light and high ceilings as well as heaps of open plan lounge areas with space to think and work alongside your furry friend. This is a pet friendly coworking space without all the fuss; there's no ping pong table, nor is there any stiff corporate offices, just stunning and commodious spaces curated for creation and collaboration. You'll love the free-flowing micro-roasted coffee and the opportunity to bring your dog to work every single day.

See Availability at Engine House

One Roof Women
Shared office space: $104 per week
Just as the name suggest, this is not just a pet friendly coworking space, it is also a female-centric workspace. Their focus is on supporting women in business with its unique community powered by passionate, bold and ambitious people. This workspace incorporates hanging plants, murals, bright color scheme and modernist furniture. Located on Southbank, right next to the Yarra River and Eureka Skydeck, you are positioned in the midst of the action. The building itself is air conditioned with bike racks if your commute involves pedalling, while the pet friendly policy will allow you to bring the furry member of your family to work.

See Availability at One Roof Women

+U
Shared office space: $104 per week
Another pet friendly coworking space in dynamic Chippendale, this forward-thinking brand new hub has been tailored to give you the opportunity to collaborate with like-minded individuals. Sitting on 822 George Street you are just a stone's throw from Central Station and all city-amenities including Prince Alfred's Park – the perfect spot to take your furry friend for a walk, or simply just bring your dog around the parks in neighbouring suburbs Surry Hills and Ultimo. You'll love the famous Zen Den, food trucks, beer on tap and of course what you came here for; their pet friendly policy encouraging tenants to bring their pups.
Savant House
Coworking desks from: $92 per week
Savant House provides the ideal location for both your business and your furry friend. With two pet friendly locations in Collingwood and Abbotsford, right by Studley Park and Yarra River, your pups will love the close proximity to green zones and water. Both coworking centres boasts a stylish industrial scheme with comfy lounge areas bathed in natural light, professional meeting facilities and plant filled breakout space. These workspaces come from a popular creative workspace operator and was founded for people just like them: curious, hardworking and sociable entrepreneurs. Don't worry about running out of coffee, nor about paying for electricity, printing facilities or reception services as all these are included in this hassle-free office solution.

See Availability at Savant House

Wise Click Training
Private office from: $124 per week
Seeking a pet friendly coworking hub on the outskirts of Perth with loads of space for your pups to play? This all-inclusive workspace is suitable for a small team looking to set up their business in the well-presented commercial/business precinct in Balcatta. Providing you with a professional business image with a light-filled foyer and dedicated receptionist to take your calls when you're out and about. Make sure you take advantage of the small business info events to network with likeminds, as well as the pet friendly policy so you can bring your dog to work!

See Availability at Wise Click Training

South Hive
Dedicated desk from: $120 per week
Private office from: $296 per week (for 2 people)
South Hive sits in stylish newly renovated warehouse in South Melbourne and invokes a cool and chic industrial feel. With polished concrete floors, raw Tassie Oak timber screens and designer furnishing, it's a unique, minimalist office space and of course; they embrace a pet friendly policy. Aiming to help businesses grow together with a seamless blend of privacy and collaboration, this is an ecosystem of likeminded professionals positioned in prime Southbank-location.

See Availability at South Hive

The Office Space
Dedicated desk from: $322 per week
Private office from: $414 per week
The Office Space features award-winning private offices, dedicated desks, sleek meeting facilities and a pet friendly policy. A creative plug 'n' play coworking space that boasts a modern and unique vibe – this is not your average office. Located in the beating heart of Surry Hills you are surrounded by eclectic bars and cute cafes, while you can bring your pooch for a walk through Belmore Park or the nearby Hyde Park. Become a part of this collaborative community where your furry friend will be showered in pats and praise.