Why Rooftop Terraces Are The Best Amenity
Here's why rooftop terraces are an in-demand amenity right now
Modern flexible workspaces place emphasis on the workplace experience to improve mental wellness among office occupants.
Any given office is packed with ergonomic furniture, potted plants, complimentary coffee and casual areas to help individuals feel happy, looked after, and less stressed.
While employers heed the calls of their staff with neat office perks and desirable indoor spaces, spending the whole day inside an office feels unnatural to most.
As employers become more in tune with their employees' psychological and physiological needs, they should shift their focus to providing access to outdoor workplaces. During COVID times, the need for outdoor space has become even more necessary.
Rooftop terraces are a hot commodity right now, forming part of tenants' wishlist as they seek their ideal office space.
This article explains why rooftop terraces are having their moment and why it's a good idea to set yourself up in an office that provides access to one.
"
Rooftop terraces are a hot commodity right now, forming part of tenants' wishlist as they seek their ideal office space.
Being Outside Is Good For Us
We spend 90% of our lives indoors, which is bad for us in various ways. Being deprived of fresh air, oxygen and sunlight can trigger many problems relating to our physical and mental wellbeing. A daily dose of nature is the fix we need to feel happier, calmer and healthier.
Our bodies absorb Vitamin D when we're outdoors, which is good for maintaining hardy bones, a healthy heart, and strong muscles while fighting off cardiovascular diseases and diabetes.
Stepping away from our work stressors helps to lower our cortisol levels, the stress hormones, which elevates when we're stressed, nervous or feeling anxious.
These examples tell us that being outdoors is vital for quieting the mind and healing the body, even for brief periods.
Decreases Burnout
Burnout is a pervasive issue in the workplace. Last year alone, approximately 77% of the Australian workforce suffered burnout. In other words, nearly four out of five workers across the continent suffered extreme stress, mental fatigue and other symptoms of burnout.
The pandemic, compounded by lockdowns and not having access to proper outdoor spaces, might have contributed.
Now that Australia's workforce is going back to work, the pressure for outdoor spaces, especially in congested cities like Sydney or Melbourne, has never been greater.
Having a space to escape strict deadlines and mounting emails, like a rooftop terrace, can work wonders to calm you down.
The Perfect Space For Holding Meetings (And Brainstorming)
As we return to the office with great anticipation and excitement, safety issues might come to the fore, especially where people working closely are concerned.
Congregating in a meeting room and sitting uncomfortably close to each other is particularly problematic as COVID-19 is still around.
Conducting meetings on a rooftop terrace puts a safe distance between your staff members. The only thing you'll be exchanging in this outdoor space is ideas and not highly contagious germs.
Rooftop Terraces Aid With Productivity
If you think that being outdoors distracts people from work, think again.
Breathing fresh air and being in nature makes people more productive, not less.
Research shows that spending time outdoors activates the prefrontal cortex, which is part of the brain responsible for cognitive, emotional and motivational processes.
Being outdoors can motivate people to be more innovative and work at optimum capacity. Being around beautiful scenery might be the source of inspiration your workers need to think creatively.
"
Being outdoors can motivate people to be more innovative and work at optimum capacity.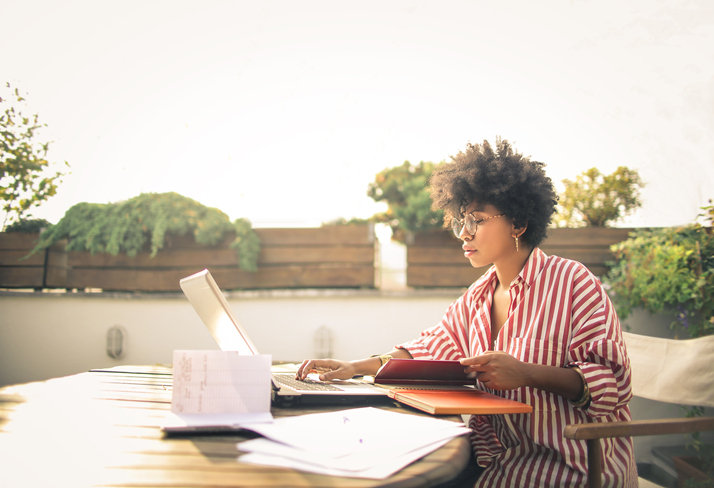 Better Than A Private Balcony
A door leading onto a private patio might seem like a good thing in that fresh air circulates the office.
But it can be problematic in places that experience four seasons. During winter, going outside for an air break exposes the office to freezing temperatures or hot wind gusts in the height of summer.
A rooftop terrace is the better choice because it allows people to be outdoors without affecting others.
Helps With Teamwork
Team building is vital for strengthening ties between colleagues and encouraging inter-departmental cooperation.
Although these events might help your staff members to get along, these might occur every quarter or once a twice a year.
An outdoor space to host team activities or gather people from different departments can regularly lift morale and improve work relationships.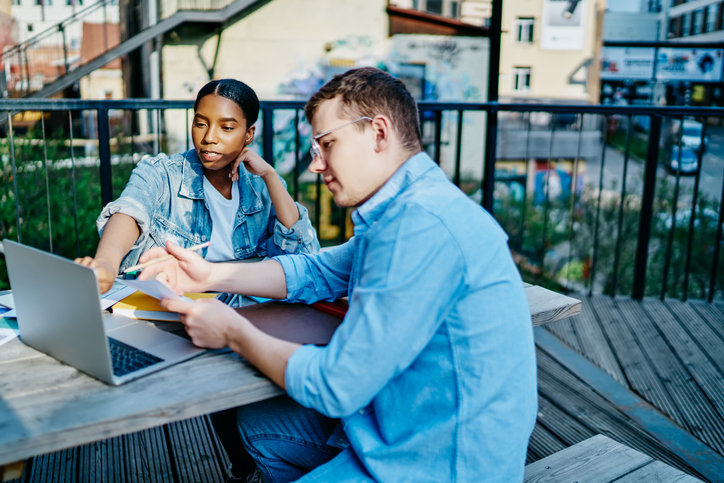 What Should Your Rooftop Terrace Include?
How you decorate your rooftop terrace will affect people's enjoyment of it. Even if the space brims with potential, if it doesn't feature specific amenities, your staff might seek a green spot elsewhere.
Furniture
Choose weather-resistant, ergonomic furniture that people will find comfortable and supportive.
Setting up tables is also a good idea for outdoor meetings and to use as makeshift workstations on the terrace.
Protection Against The Elements
Unless you work where the weather is mild and temperature, you'll need facilities for the hotter and colder months.
Stretch the time your employees enjoy these spaces by incorporating outdoor heaters and fire pits or portable fans and umbrellas that provide coverage against rain and sun.
Assorted Greenery
Add colour to your outdoor spaces with assorted plants. Not only will this create a relaxing environment, but it delineates areas, which might be vital if you have groups of people gathered on the rooftop for different work activities.
Power Up
Get the best out of rooftop terraces with a solid WIFI connection and outlet. This way, everyone is online and connected even if they're not stationed at their desks. By doing this, people aren't limited in where they choose to work based on where there's good internet.
Consider A Small Garden
Younger generations who are coming into the workforce value offices that incorporate sustainability into their designs.
One way to meet these demands on your rooftop terrace is to consider growing a vegetable garden and let employees volunteer their time tending to the patch. Not only will the harvest bear healthy produce, but it also helps employees to channel their stress into gardening.
What If There Isn't A Rooftop Terrace?
Not everyone is affording the luxury of working in a building with a rooftop terrace. Take a look at the below suggestion if your workplace doesn't have access to a rooftop terrace.
Through Biophilic Design:
Bring the outside in if you can't give your employees access to an outdoor space. This entails integrating elements of nature inside by adding plants, decorating walls according to nature themes, adding scents or playing soothing music.
Utilise Any Outdoor Space
With your landlord's permission, why not do something about that small patch of unkempt grass between your building the next?
You can add a couple of benches, plant flowers and really make the space inviting.
Are you looking for an office with a rooftop terrace or at least outdoor space? We've got you covered - take a look at these top spots with access to the outdoor work areas.