Coworking Spaces or Conventional: Why the World's Biggest Companies Are Sharing Office Space
The largest businesses in the world have enough time and money to take a conventional office – so why are they choosing coworking instead?
Coworking spaces have long been the working style of choice for start-ups, freelancers and entrepreneurs because it's a cheaper, less committal way of leasing office space. It allows young businesses to operate in a professional environment without the risk of a fixed space and location. With a smaller bond, month-to-month leases, fewer running costs and less management time, coworking spaces are perfect for companies going through growth with uncertainty about what their future holds.

First rocking the office market 10 years ago, coworking offices were seen as a great stepping stone between the home office and a commercial lease. They had an immediate transformative impact on the way we worked and became known as sort of incubators for young business, inspiring unbounded creativity and innovation. In fact, many of the largest tech-based companies in the world began in and grew out of coworking offices: Instagram, Uber, Timehop and IndieGoGo, to name just a few. Coworking spaces have never quite outgrown its association with young creatives, tech start-ups and entrepreneurs – until now.
Coworking offices never quite outgrew their association with tech start-ups and hustling entrepreneurs – until now.
Instead of moving out of coworking offices, large enterprises are moving back in. They're turning their back on conventional offices and choosing creative coworking options instead. And it's not always companies you'd expect to revel in the stereotypical beer-on-tap, jeans-only, dog-friendly policies at coworking hubs – HSBC, the Bank of America, Salesforce and Microsoft are a few examples that have taken coworking space with our workspace partner, WeWork.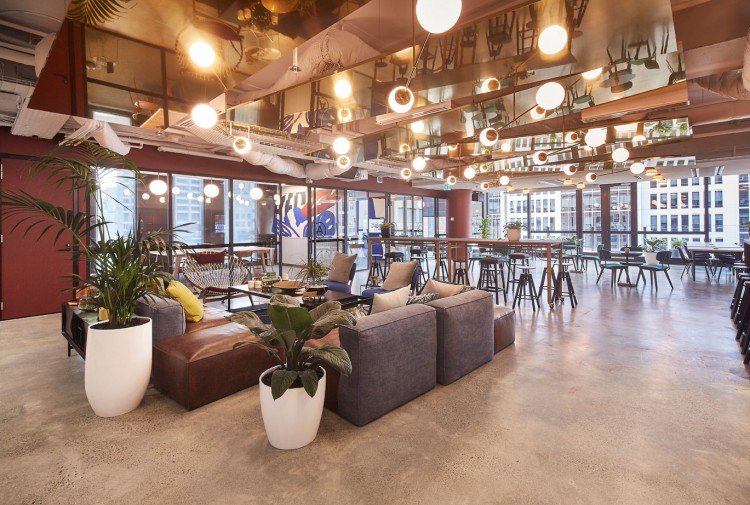 So why are established businesses moving "backwards" into coworking spaces?
Companies of this scale definitely have the time, finances and manpower to organise finding, leasing and designing their very own conventional office lease. So why are they choosing coworking instead?

"There's a number of reasons why coworking is appealing to large corporates," says Grant Philipp, CEO and Founder of Office Hub. "For some, it's a temporary solution while they sort out other premises. For others, it's an opportunity to cut back on office spend and invest that money elsewhere. But we believe that for most, the community, collaboration, and mobility benefits of coworking are the main draw."

Coworking spaces are a great temporary solution – they give you a professional, functional plug-and-play space that you can often move into in the same day you sign and start working in immediately on an easy month-to-month basis. Far removed from the lengthy negotiations and set-ups involved with a conventional lease.

And they are, of course, excellent for cutting costs – shared offices are the cheapest way to rent office space as you don't need to pay for the design, fit-out, furnishings or for any professional help with negotiations, architecture, or interior design. All ongoing costs tend to be covered in one monthly bill, dramatically reducing accounting time, while shared use of electricity, utilities, housekeeping, a reception team, insurance, and body corp splits the bills and brings costs right down for everyone.
"
But the community, feel-good vibes and mobility are the really invaluable things about coworking offices.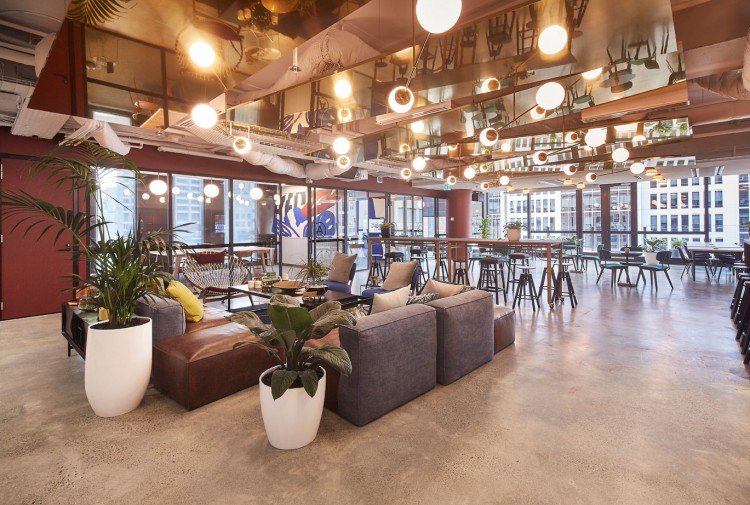 A coworking atmosphere that can't be replicated
Coworking hubs have an atmosphere that can't be replicated – when you step inside, you can really feel the opportunity, inspiration and productivity in the air. There's a sense that people are there to work on their passion and maybe, just maybe, they'll change the world while they're at it. Imagine hundreds of enthusiastic people who want to show up to work, feel a valued part of the community and actively contribute to its great energy. It's electric.
Beneficial social structures
The social structures created by coworking have an invaluable impact on people and performance – there are countless studies, like this one, that prove the benefits of coworking on employee productivity and happiness. Workers feel both individual autonomy and an important part of a wider community, which is thought to be the ideal balance for employees to feel valued. Coworking is a vital recruitment tool for this reason – if you can offer people, and especially millennials, an exciting place to work with the opportunity to meet countless new people, you'll have the edge over a competitor who has a sterile or solitary conventional office.

"Big companies that choose coworking are essentially saying that their people are the most important part of their business," says Grant. "They're saying they want to make sure you love being at work and that you can enjoy the social aspect of the workplace. There's no such thing as 'Monday morning dread' at any coworking hub I've been to!"
"
Networking is one of the main benefits of coworking – Muse in Sydney holds events to encourage interaction between members.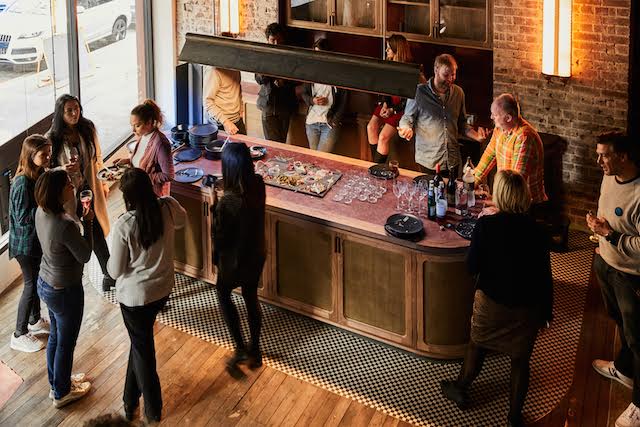 Better mobility with access to offices all over the world
Many coworking operators have expanded to have coworking centres in dozens or even hundreds of cities around the world. They have intranets, forums and chats to connect their thousands of members and help you find new business opportunities and friendships. As a member, you can usually work from any of their locations in the world – it's ideal for teams with mobile employees who visit clients or work out in the field, or for businesses which are expanding overseas and need to send team members to work from the new market.
Yesterday's coworkers are today's decision-makers.
It's likely that many workers and even decision-makers at big firms started their professional lives in coworking offices. Their first job or solo venture in the mid-2000s may have been based in a coworking space when the workstyle was taking off for the first time. Now, they're at big corporations and understand firsthand that the conventional style of working isn't conducive for today's young professionals.

And coworking spaces have grown up with them – there are now slick, stylish coworking offices managed by professional teams with receptionists, IT specialists and more help on hand to take care of your every need. There's no need to add this support staff to your payroll, and large businesses are feeling the advantages: happy people, great recruits, strong work performances and substantial money savings.
"
"Choosing coworking tells your people that they're the most important part of your business,"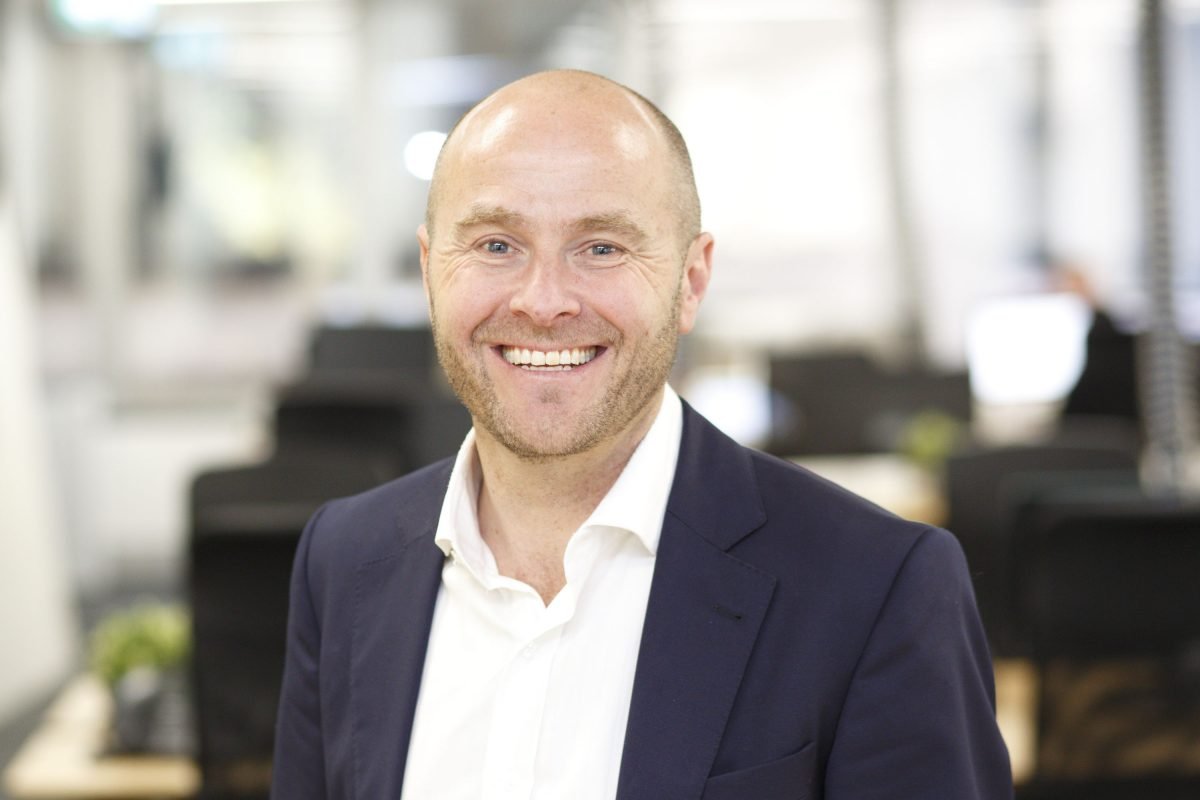 Here at Office Hub, our client base has gone through a telling transformation.
Historically, the vast majority of coworking clients have been start-ups and growth-phase small businesses – but now, 40 percent of our enquiries for coworking spaces come from corporate and enterprise businesses. We have flexible and coworking office spaces available for teams of up to 100 people plus bespoke solutions to custom-design a workspace to suit large teams.

If you're considering moving to coworking spaces for your business, Office Hub has got you covered. With a wide variety of office space options, including private offices, shared workspaces, and virtual offices, you'll be able to find the perfect workspace to suit your business needs. We offer our services in various cities in the UK. Contact us today to learn more about how we can assist you in finding the perfect coworking space.