Feeding Sydney's Homeless: Office Hub Volunteers for Birds of Passage
The Office Hub team spent an evening feeding Sydney's homeless community with volunteer-based charity Birds of Passage. Here's how we helped and what we learned from our night of cooking and serving the homeless in Woolloomooloo.
The story starts at Office Hub, where we have spent the last eight weeks cooking lunch for one another every Wednesday in 'My Office Hub Kitchen Rules'. We teamed up in pairs to create our favourite cuisine and enjoy some competitive fun as things heated up in the kitchen and the competition. Big congrats to our winners Anu and Ellie with their "Great Brindian Banquet" – but the light-hearted competition also got us thinking, how can we apply our skills to a worthy cause?
With an increasing and alarming number of people on the streets of Sydney fighting to find a place to sleep and food to eat, we collectively decided to put our efforts into making a difference in the community and the lives of homeless people.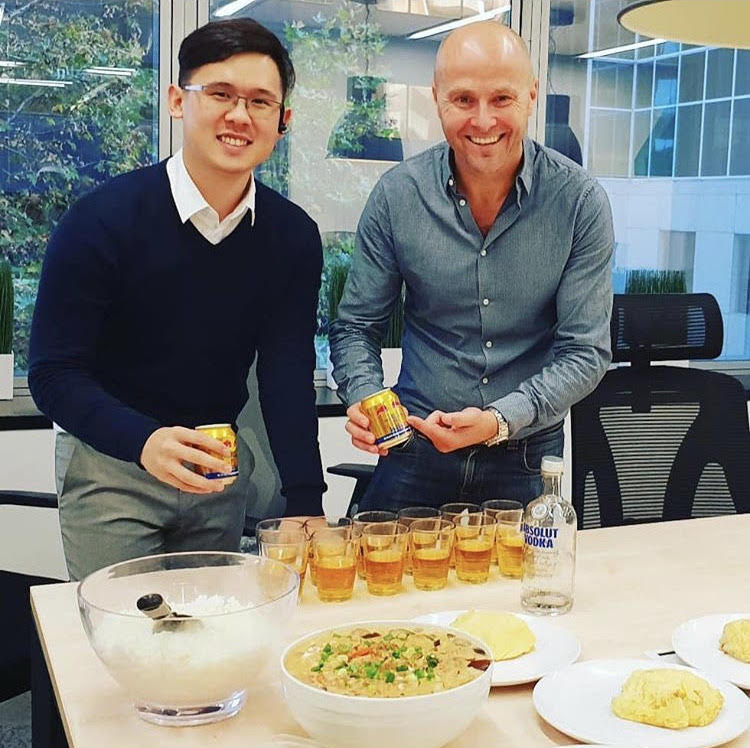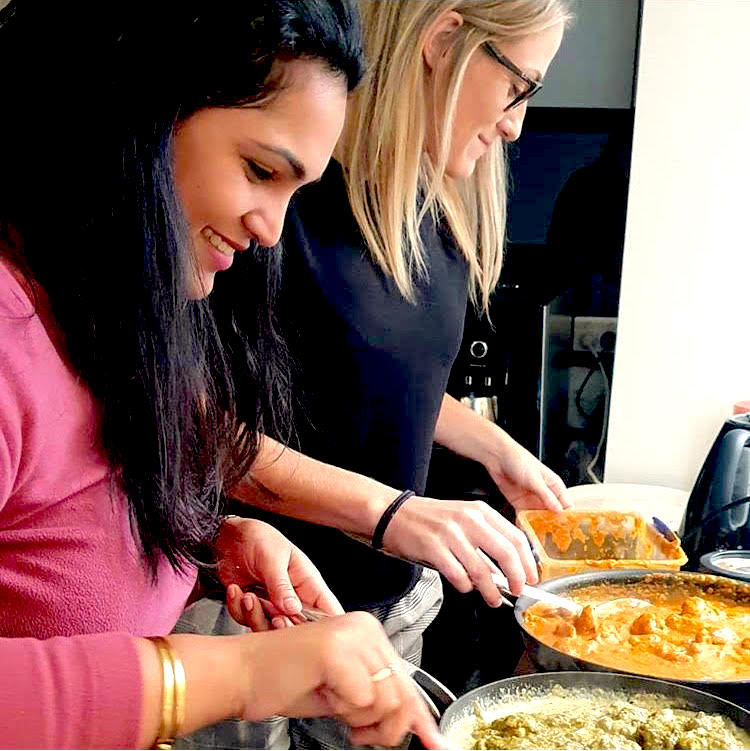 According to recent data, the homeless crisis in NSW has worsened with 28,500 people currently on the streets. More terrifying statistics show that, in Australia, 1 in 200 people are without a home, while 60% of these are under the age of 34. According to Birds of Passage, the four leading causes for homelessness are: Financial difficulties (unemployment), accommodation issues (housing crisis, inadequate dwellings), domestic violence/relationship issues and health reasons (mental health issues, substance abuse). 
With the pressing need for homeless services and charities in Sydney, Birds of Passage was born. It's a volunteer-based not-for-profit charity helping Sydney's homeless by providing food, clothes and wellbeing services. It is exclusively run by volunteers and they partner with food donors and local councils to provide support through weekly food runs. Every Monday at 5.00PM-7.30PM, 7-9 volunteers prepare and serve a three course dinner for the homeless people.
So we stepped out of the Office Hub kitchen and into the outdoors at Cathedral Street in Woolloomooloo. We left the office before the sun came down on Monday and hopped on the bus heading east –it felt as though we were on a field trip with everyone excited to lend a hand and help out some people in need. 
As we arrived in Woolloomooloo we were first introduced to some passionate and dedicated managers who volunteer their time week in, week out. They presented some shocking statistics and briefed us on the current homeless situation in both Sydney and Australia. Emphasising the fact that many homeless people are not in control of their own situation, despite common misconceptions, they really hit home with the fact that anyone can fall victim to homelessness.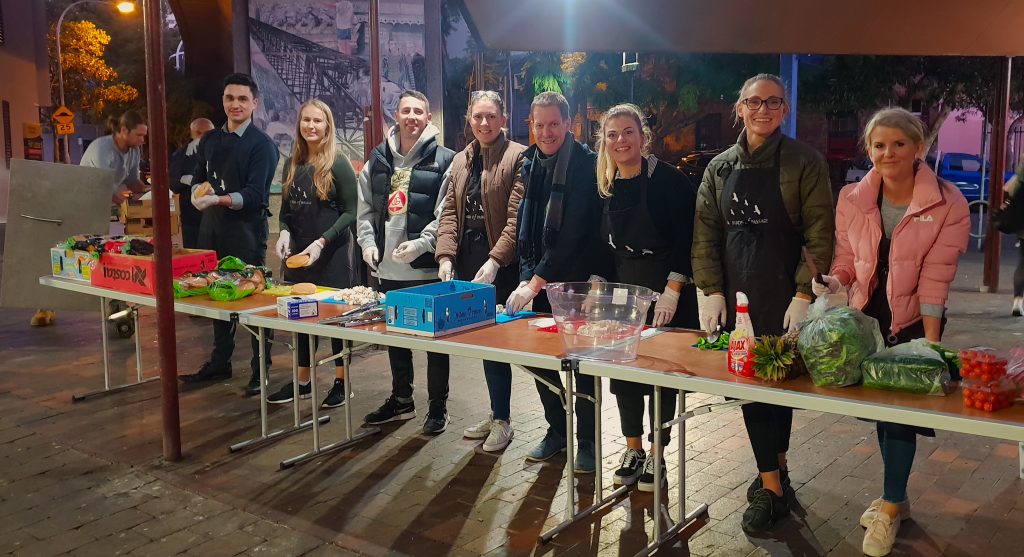 Following an eye-opening presentation on these tragic circumstances, preparing the dinner for the homeless people was next up on the night's schedule. On the menu: gourmet burgers, fruit salad and homemade lemon juice. The enthusiastic supervisors put each of us in charge of our own food station, with some chopping mushrooms, others slicing capsicum and some preparing the fruit salad, while the volunteer head chef started grilling the pattys. When we were lined up chopping and cutting, a group of around 140 homeless people appeared and queued patiently while they waited for the food to be ready. 
We had prepared all the food within an hour, and we each took up a station to serve the burgers. Watching the faces on the friendly people making their way along the line made our efforts worth it. The 'thank you's were many and loud, making us feel that we were truly making a difference in the community. With plenty of food to feed everyone who had rocked up, we started cleaning and packing up as we felt the temperature decrease. Safe to say we each left more thankful than ever that we had a home to return to.
"It was an eye-opening experience that I was incredibly proud to be part of," says Tom Bell, Sales & Account Manager. "Hopefully we made a few people's days and made sure they were well-fed for a night, which feels like the least we can do. We're looking to help with these food-runs on a regular basis so we can keep supporting the rough sleeping community in Sydney. Shout out to the guys at Birds of Passage for a well-organised night that was both fun and hugely rewarding."
So, when you cosy up in bed after a long day at work, make sure you thank your lucky stars because out on the street, so many people don't know where they're going to sleep tonight. Some of the most vital components for a person's wellbeing is having a safe place to sleep and food on the table – and so many Australians are without both. Homelessness affects people of all ages, genders and walks of life and, despite common misconception, it can happen to anyone. We all know how it feels to be down on our luck and the small things you do truly make a difference.
While donating money to a charity or giving money to the homeless people you meet in the streets is a fantastic way to help the community, there is one thing we can all afford to give – our time. There are so many things you can do to help the homeless community and a good place to start is by sparing a little time for a great cause.
Beyond the impact we can make in the community and the lives of homeless people, it can make you a more tolerant human being, while making you feel fulfilled and valued knowing that you're making a real difference. It comes down to this; people in our backyard are going through hardships and each of us should take the plunge, do what we can and expect nothing in return. 
So, if you fancy giving back, why not sign up for the next weekly food run with Birds of Passage. Eager and friendly volunteers are the heart and soul of the organisation, and their program is an interactive and hands-on experience that boosts motivation and morale. Here at Office Hub, we left Woolloomooloo feeling like we made a difference in the lives of the less fortunate, along with a new perspective on homelessness and a strong sense of gratitude for all our blessings. For more information on where and how to volunteer, click here to get involved with Birds of Passage.