The Dramatic Shift of Australia's Coworking Market in 2018
New findings reveal a seismic shift in Australia's coworking market as tenants are put in control for the very first time.
Coworking supply meets demand after years of imbalance
Major Australian cities record significant decrease in average desk rate
Large businesses move towards flexible office space
With 25 per cent more flexible workspaces entering the market this year, the Australian coworking sector felt a huge boost in supply for the very first time. Provider competition has intensified in both cities and regional areas and more office spaces are available to rent than ever before, displacing the usual order of high demand outweighing supply.
But what does this mean for the industry? What do providers need to do to stay relevant? How can tenants adapt when searching for office space?
The 2018 Australian Coworking Market Report analyses the growth of the sector across major cities, evaluates the new balance of supply and demand and predicts the future of the coworking industry in Australia.
It also provides in-depth insight for workspace providers, exploring who Australia's flexible workers are, what the dream workspace looks like and what operators can do to stay ahead of the competition.
Based on real data from more than 1,000 providers and 5,000 tenants in Australia, the report gives exclusive insight into the market – click below to read it now.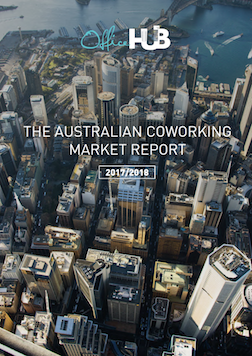 The Australian coworking sector has shifted, putting tenants in control for the very first time.

Read Report