135 King Street: Your Gateway to Co-Working Spaces and Offices
In the heart of Sydney's bustling Central Business District, 135 King Street stands as an impressive high-rise building offering an outstanding work environment for businesses seeking the perfect location.
Boasting breathtaking harbor and CBD views, this prime CBD address provides an ideal setting for both companies and their employees to thrive.
Coworking Spaces
Fostering Collaboration and Networking For startups, freelancers, and small businesses seeking a dynamic and collaborative environment, 135 King Street offers state-of-the-art coworking spaces. These spaces are thoughtfully designed to encourage creativity, innovation, and meaningful interactions among like-minded professionals. By working alongside individuals from diverse industries, entrepreneurs can benefit from valuable networking opportunities, potential partnerships, and shared knowledge, fostering a community of growth and support.
The coworking spaces at 135 King Street boast modern amenities, including high-speed internet, fully equipped meeting rooms, and access to communal breakout areas. This blend of functionality and a vibrant atmosphere makes it the ideal setting for businesses seeking flexibility, affordability, and a professional image.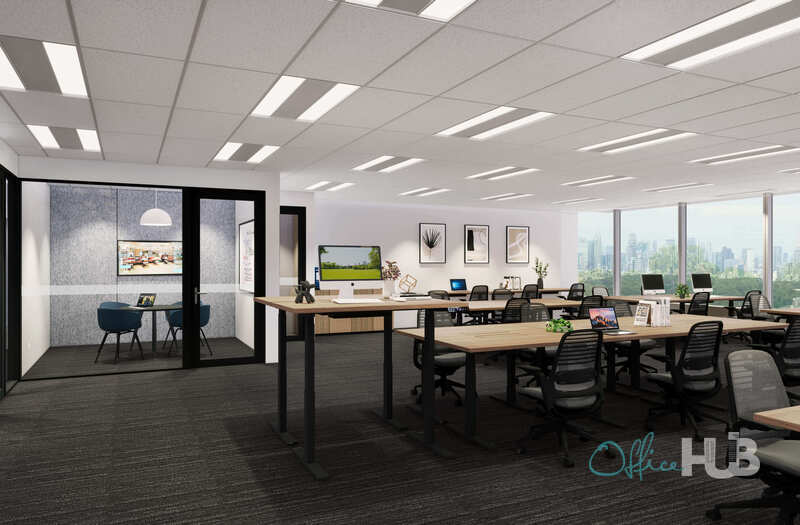 Private Offices
Tailored Spaces for Business Growth Recognizing that established businesses and growing enterprises require privacy, personalized spaces, and room to expand, 135 King Street provides an array of private offices that cater to these needs. Whether it's a boutique firm, a creative agency, or a multinational corporation, these private offices are designed to accommodate businesses of all sizes.
The private offices at 135 King Street are characterized by modern aesthetics, ergonomic furnishings, and advanced technological infrastructure. With 24/7 access, businesses can operate at their own pace while enjoying the benefits of a prestigious CBD address. Additionally, the flexibility to customize office layouts ensures that each workspace aligns perfectly with the unique requirements of the business.
Virtual and Enterprise Offices
A Professional Front without Boundaries Understanding the changing landscape of modern business, 135 King Street offers virtual and enterprise office solutions that transcend physical boundaries. For businesses seeking a professional presence without the need for a physical workspace, virtual offices provide a prestigious business address, mail handling services, and access to on-demand meeting spaces.
For larger enterprises seeking a satellite location or an expansion into the dynamic Sydney market, the enterprise office solutions at 135 King Street offer fully serviced and scalable office spaces. Businesses can seamlessly integrate their operations with the support of a dedicated onsite team, allowing them to focus on core activities while leaving office management in capable hands.
The Ideal Choice for Your Business's Future
Whether you're a startup looking to make your mark, an established firm seeking growth, or an international corporation seeking a strategic foothold in Sydney's thriving business landscape, 135 King Street offers a comprehensive range of office solutions to suit your needs.
By providing best-in-class coworking spaces, private offices, and virtual and enterprise offices, 135 King Street empowers businesses to thrive in an environment that fosters collaboration, professionalism, and innovation. The prime CBD location, paired with stunning views and world-class amenities, creates the perfect recipe for success.
Location and Accessibility
Situated in the energetic heart of Sydney, 135 King Street benefits from its proximity to major financial institutions and blue-chip companies, making it a strategic hub for businesses seeking to establish a strong presence. The convenience of the location is further enhanced by the dynamic buzz of Sydney's premier shopping locations, including high-end retail stores on Castlereagh Street, Pitt Street Mall, and the Queen Victoria Building, all within a few minutes' walk.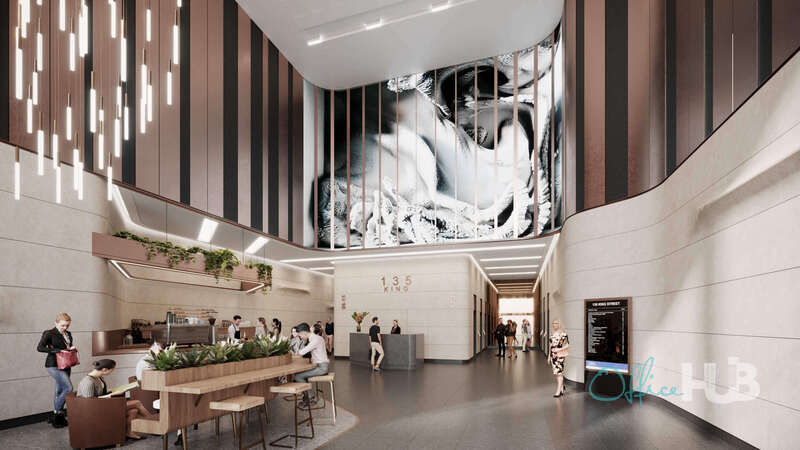 Transportation Options
Accessibility is a key feature of 135 King Street, with multiple transportation options available. Tenants can easily access trains at both Town Hall and Martin Place Stations through quick undercover access. Additionally, major bus routes are conveniently located on the building's doorstep. For a scenic alternative, the Darling Harbour ferry service operates to King Street Wharf, providing a pleasant commute option for employees.
Moreover, the End of Trip facilities are designed to cater to the needs of modern professionals, making the daily commute more convenient and enjoyable. These facilities provide secure bike storage, showers, and changing rooms, encouraging tenants to incorporate active and sustainable commuting options into their daily routines.
An Ideal Work Environment
135 King Street goes beyond offering practical amenities; it fosters a work environment that employees will love. The central location not only provides easy access to numerous lunchtime options, including some of Sydney's finest restaurants and cafes, but also encourages employees to take active breaks in nearby Hyde Park, where team sports can be enjoyed.
Investing in Your Company's Future
Moving to 135 King Street is a strategic investment in your company's future. The combination of its prime CBD location, breathtaking views, and high-quality building services creates an attractive package for businesses looking to grow and thrive. It offers a prestigious address that will undoubtedly leave a lasting impression on clients and partners alike, facilitating business growth and opportunities in the global marketplace.
In conclusion, 135 King Street is more than just a high-rise building; it is a symbol of excellence and sophistication in the heart of Sydney's bustling CBD. 
Its array of impressive features, combined with its surprisingly good value, make it an irresistible choice for businesses seeking a new address that reflects their commitment to success and provides an exceptional work environment for their valued employees. Whether you are an established corporation or a budding startup, 135 King Street offers the perfect opportunity to find your flexible space to elevate your business to new heights and embrace the vibrant energy of Australia's thriving business hub.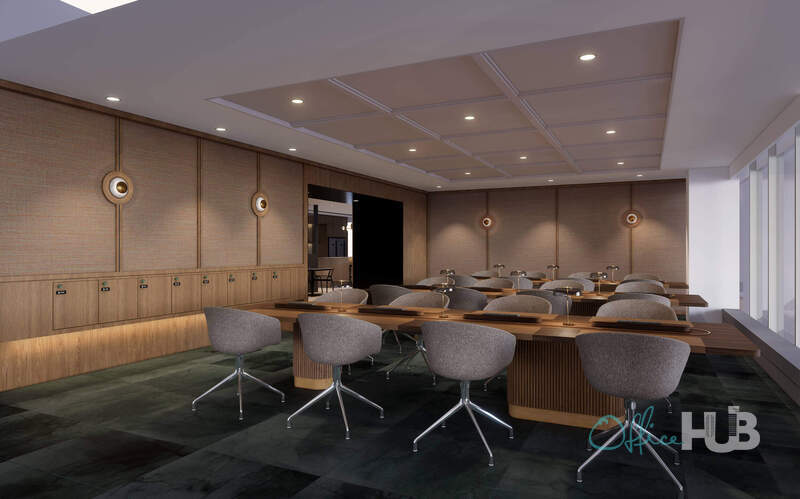 Find Your Flexible Space at 135 King Street with Office Hub
If you're in search of the perfect co-working space or flexible office solution at the prestigious 135 King Street in Sydney, look no further than Office Hub. As the go-to platform for finding tailored and fully serviced office spaces in Australia, Office Hub boasts an extensive network of co-working spaces, making it a breeze to discover the ideal workspace that aligns seamlessly with your business needs.
The Office Hub Experience
Office Hub is not just a platform for finding workspace; it's an experience that puts your business's success at the forefront. With unparalleled customer service and a passion for empowering businesses, Office Hub ensures that your journey to finding your perfect co-working space at 135 King Street is seamless and rewarding. Contact us today!