Aussie Prop Tech Killing the Real Estate Agent
90 per cent of workspace operators in Australia have adopted new forms of technology that make transactions cheaper and faster for customers as the commercial office industry falls behind in tech uptake.
Significant adoption of big data, artificial intelligence (AI), cloud computing and automation technologies in the flexible workspace industry is helping businesses secure memberships faster and save up to 30 per cent of the cost of their workspace rental.
And we're stoked to say that Abacus – the tool that allows tenants to bid and agree terms with coworking operators online – is making waves as one of Australia's most notable prop tech developments ever.
Developed right here at Office Hub, Abacus has helped our clients achieve incredible discounts of up to 30 per cent off coworking memberships. It is also reducing the length of the transaction process, which now stands at an average of 19 days compared to 23 six months ago.
And there are more notable prop tech developments currently transforming the flexible workspace industry:
Virtual assistants intelligently answer search queries with machine learning.
Advanced software matches tenants with suitable workspaces using web data extraction and analysis.
Automated programmes run instant credit checks on businesses.
Virtual reality (VR) and augmented reality (AR) recreate the workspace tour experience.
Innovative payment systems allow members to pay for their office space with cryptocurrency.
Coworking tech is enabling operators to provide personalised rental proposals faster than ever before – it now takes just 8 minutes on average for a tenant to receive tailored pricing and rental quotes from multiple workspaces, a process that previously took days or even weeks.
The flexible workspace sector is advancing fast due to the provision of technology in both the transactional process and the physical coworking offices people can rent.
In contrast, slow uptake of prop tech is damaging the success of real estate agents. Although they have ranked among Australia's three least trustworthy professions since 1975, more recent research shows that it is the lack of openness and transparency that puts people off. These are two key areas that many prop tech developments in the flexi arena aim to improve, but only a minority of commercial real estate executives recognise disruptive technologies as having the potential for major industry change.
As working styles evolve towards more flexible solutions, the movement away from commercial offices – and real estate agents – is set to continue. In 2018, only 26 per cent of startups worked from a commercial office, compared to 71 per cent that utilised flexible workspaces. And they plan to make use of the flexibility on offer, with 24 per cent of startups planning to move in the next 12 months compared to only 4 per cent who intend to renew a lease.
"It's no surprise that both established businesses and startups are moving away from the commercial industry," says Grant Philipp, CEO & Founder at Office Hub. "The efficiency, transparency and cost-effectiveness of technologies that help you find flexible space make far more sense than employing a real estate agent and securing a commercial lease. Flexi operators have the advantage over real estate agents in that they can combine search technologies and in-house technologies to attract and retain tenants."
"Commercial agents who don't adopt new innovations, and the sector as a whole if they don't adopt on a large scale, will be wiped out."
"And that's where we come in," says Grant. "As a digital marketplace with a complementary search service, we're far from your standard commission-claiming agent. We have developed the most cutting-edge of property technologies to ensure the industry keeps moving away from outdated methods and ultimately becomes more transparent for the end user."
Regus, WeWork, Servcorp and Hub Australia are some of the big names in coworking that have already adopted Abacus and are securing more deals thanks to the streamlining technology.
Abacus is a free tool available to every tenant and workspace operator working with Office Hub to find or lease office space.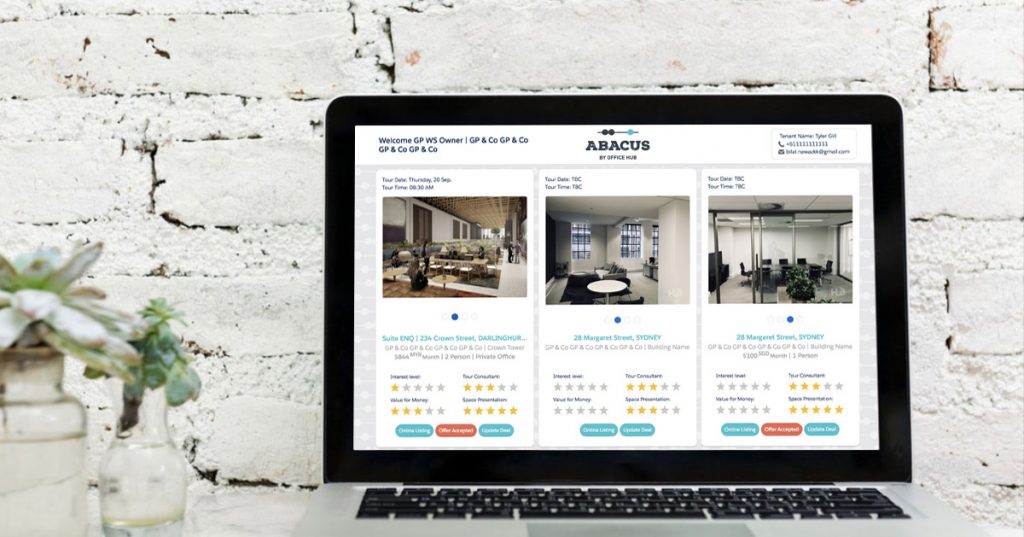 Find out more about how to use Abacus to save money on your next coworking space here, or start your search for office space with free help from our friendly workspace experts.